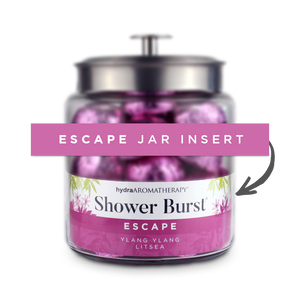 Shower Burst® Jar Insert in Escape
Freshen up your Shower Burst Jar Set with a new Shower Burst® Jar Insert in our latest design. This branded insert lists the name and key top notes of the aromatherapy blend, providing a polished look to the jar and a seamless customer experience.

Shower Burst Jar Inserts are complimentary with any order. This item does not include Shower Burst Display Jar.
To guarantee delivery in time for Christmas, place your order by 12/15/23.