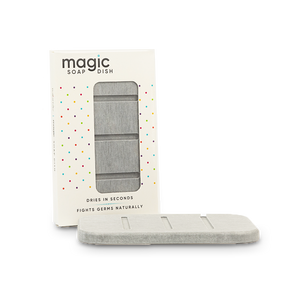 Magic Soap Dish™ in Slate
A soap dish that dries in a flash and doesn't leave you with mushy soap can't be real, right?  Wrong!  We've conjured up the magical solution using light-weight, ultra-absorbent diatomite and natural plant fibers.
With anti-slip grooves and sterile, anti-bacterial properties, this durable soap dish keeps soap fresh and firm.  Bolli & Fritz's Magic Soap Dishes keep soap lasting longer and smelling better.
In case packs of six (6) Magic Soap Dish.