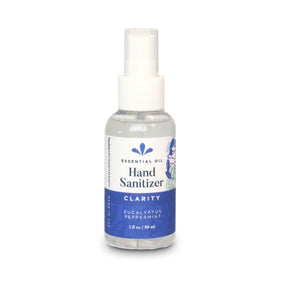 Essential Oil Hand Sanitizer in Clarity
The Essential Oil Hand Sanitizer delivers a mist that dries instantly with no mess. The spray formula contains 70% alcohol and an essential oil blend to clean the hands and boost the mood. To use, spray enough to cover hands and rub together until dry. Shake before each use.

Scent profile: Fresh & Woody, Subtlety Sweet, Sharp & Clean
Blend elements: Eucalyptus, Peppermint, Spearmint
Experience: Sharpens the senses and clears the mind

Clear your mind with every spray.

Each Essential Oil Hand Sanitizer is made in the USA with natural ingredients and 100% pure essential oils. For use when soap and water are not available. Our formula effectively kills 99% of germs.